Last updated 02 January 2017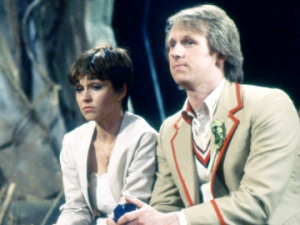 Broadcast: Saturday 13th January 2001
11:00pm-11:25pm EST
(04:00 GMT)
<
>
«
»
MiND
Featuring: Peter Davison, Janet Fielding, Sarah Sutton, Martin Clunes, Preston Lockwood, Colette O'Neil
Five hundred years after being exiled, the Mara is returning home to the planet Manussa. And it is using Tegan's subconscious to get there in the TARDIS
Synopsis Source: Doctor Who Guide
Broadcast Source: TWiDW
Report from the This Week in Doctor Who Archive:
Friday 12th January 2001:
WYBE 35 Philadelphia, PA
http://www.wybe.org/
Sat 11PM EST Snakedance eps 1+2 of 4
Last year, Tegan's mind was invaded by a lifeform called the Mara, which wanted to use her to invade a world. Now, the Mara has returned. The Doctor and Nyssa rush to try to protect Tegan from being overcome again.