Last updated 02 January 2017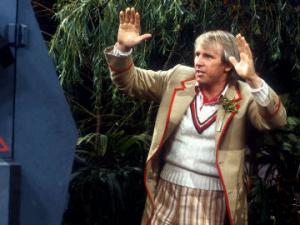 Broadcast: Saturday 28th October 2000
11:00pm-11:25pm EDT
(03:00 GMT)
<
>
«
»
MiND
Featuring: Peter Davison, Janet Fielding, Sarah Sutton, Matthew Waterhouse, Nerys Hughes, Simon Rouse, Richard Todd
While Nyssa rests, Adric and the Doctor discover a military expedition on Deva Loka. Tegan falls asleep in the forest watched by the Kinda, but they cannot stop her dreams.
Synopsis Source: Doctor Who Guide
Broadcast Source: TWiDW
Report from the This Week in Doctor Who Archive:
Friday 27th October 2000:
WYBE 35 Philadelphia, PA
http://www.wybe.org/
Sat 11PM EDT Kinda eps 1+2 of 4
Nyssa is kinda ill, so she is left behind while the 5th Doctor, Adric, and Tegan wander into the dangerous jungle world where the Kinda people live. It's a nice place, but try not to sleep there.