Last updated 02 January 2017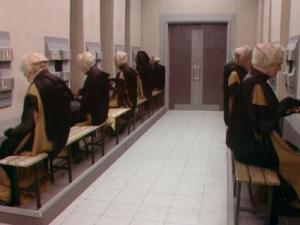 Broadcast: Saturday 7th October 2000
11:00pm-11:25pm EDT
(03:00 GMT)
<
>
«
»
MiND
Featuring: Tom Baker, Janet Fielding, Sarah Sutton, Matthew Waterhouse, Anthony Ainley, John Fraser
The Master is loose on Logopolis and is determined to learn its secret. But there is more at stake than he realises and his meddling has endangered the entire universe.
Synopsis Source: Doctor Who Guide
Broadcast Source: TWiDW
Report from the This Week in Doctor Who Archive:
Friday 6th October 2000:
WYBE 35 Philadelphia, PA
http://www.wybe.org/
Sat 11PM EDT Logopolis eps 3+4 of 4
The Master's latest scheme goes a bit out of hand. His plan to control the universe may wind up destroying it by mistake. Final Tom Baker episodes. Assuming WYBE doesn't mess up its tapes again.