Last updated 02 January 2017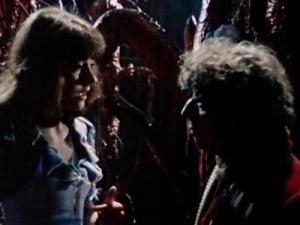 Broadcast: Tuesday 17th October 2000
8:00am-9:00am EDT
(12:00 GMT)
«
»
BBC America
(adverts during broadcast)
Featuring: Tom Baker, Elisabeth Sladen, Prentis Hancock, Frederick Jaeger
The TARDIS takes the Doctor and Sarah to the planet Zeta Minor on the edge of the universe. An unseen menace has wiped out a Morestran expedition and haunts the alien jungle...
Synopsis Source: Doctor Who Guide
Broadcast Source: TWIDW
Report from the This Week in Doctor Who Archive:
Friday 13th October 2000:
BBC America
http://www.bbcamerica.com/
Mon-Thu 8AM EDT (5AM PDT), reruns Tue-Fri 5AM EDT (2AM PDT)
Mon/Tue Terror of the Zygons eps 3+4 of 4
The Zygons intend to take over the Earth, in an altruistic plan to develop a new home for their people. Altruistic for the Zygons, anyway. Not so altruistic for the human race.
Tue-Wed/Wed-Thu Planet of Evil eps 1 - 4 of 4
Fear, guilt, pain, death. The Doctor and Sarah find themselves caught in the crossfire between an effort to find the survivors of a scientific expedition and a planet that eats people. You don't have to be evil to do evil, and the worst consequences can spring from the noblest intentions.
Thu/Fri Pyramids of Mars eps 1+2 of 4
An Egyptologist accidentally releases the power of an ancient evil thought bottled up forever. And yes, that is a bland explanation. Week in, week out, trying to make it interesting, especially when this station airs the same stories again and again. Trying to get the info on big Who developments to keep everyone happy. And what's the result? Just this darn robotic mummy looking on at me all the time, staring.