Last updated 02 January 2017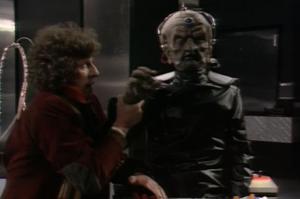 Broadcast: Thursday 5th October 2000
5:00am-6:00am EDT
(09:00 GMT)
<
>
«
»
BBC America
(adverts during broadcast)
Featuring: Tom Baker, Ian Marter, Elisabeth Sladen, Peter Miles, Michael Wisher, Stephen Yardley
With Harry and Sarah his prisoners, Davros interrogates the Doctor, forcing him to reveal the future of the Daleks so that he can learn from their defeats to make them stronger.
Synopsis Source: Doctor Who Guide
Broadcast Source: TWIDW
Report from the This Week in Doctor Who Archive:
Friday 29th September 2000:
BBC America
http://www.bbcamerica.com/
Monday thru Thursday 8AM EDT (5AM PDT) - 2 episodes daily, reruns following weekday 5AM EDT (2AM PDT)
Mon-Wed/Tue-Thu Genesis of the Daleks eps 1 - 6 of 6
Stranded on the planet Skaro, and separated from their only means to return to the TARDIS, the 4th Doctor, Sarah, and Harry investigate the creation of the Daleks, searching for a way to either erase the metal monsters from history or make them kinder, gentler metal monsters.
Thu/Fri The Android Invasion eps 1+2 of 4
The 4th Doctor and Sarah land on Earth to find the place deserted. What happened to all the people? Indeed, some viewers may wonder what happened to Harry Sullivan, as BBC America is skipping over a few stories.