Last updated 02 January 2017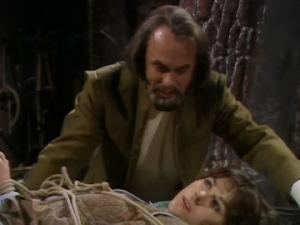 Broadcast: Wednesday 6th September 2000
5:00am-6:00am EDT
(09:00 GMT)
<
>
«
»
BBC America
(adverts during broadcast)
Featuring: Tom Baker, Elisabeth Sladen, Cynthia Grenville, Philip Madoc
Sarah has been blinded and the Doctor asks the Sisterhood for help. Morbius, fearful that the Time Lords have tracked him down, tells Solon to install his brain in a new body.
Synopsis Source: Doctor Who Guide
Broadcast Source: TWIDW
Report from the This Week in Doctor Who Archive:
Friday 1st September 2000:
BBC America
http://www.bbcamerica.com/
Weekdays 5AM EDT (2AM PDT) - 2 episodes edited together daily
Mon The Android Invasion eps 3+4 of 4
The Kraals intend to use the androids to replace key people in British society to aid in the conquest of Earth. Final appearances of Benton and Harry Sullivan.
Tue-Wed The Brain of Morbius eps 1 - 4 of 4
The TARDIS goes to Karn, where Professor Solon takes an inappropriate interest in the Doctor's head and a Sisterhood tries to kill any visitors.
Thu-Fri The Seeds of Doom eps 1 - 4 of 6
The Doctor and Sarah travel the globe in search of alien seed pods which, if allowed to germinate, could transfer all the plants on Earth into ruthless killers.