Last updated 02 January 2017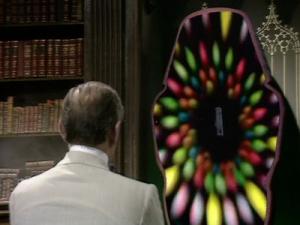 Broadcast: Thursday 31st August 2000
5:00am-6:00am EDT
(09:00 GMT)
<
>
«
»
BBC America
(adverts during broadcast)
Featuring: Tom Baker, Elisabeth Sladen, Bernard Archard, Michael Sheard, Gabriel Woolf
As part of a plan to release Sutekh, the mummies are building a rocket to fire at the pyramid on Mars. The Doctor is resolved to destroy the rocket but is Sutekh's will too strong?
Synopsis Source: Doctor Who Guide
Broadcast Source: TWIDW
Report from the This Week in Doctor Who Archive:
Friday 25th August 2000:
BBC America
http://www.bbcamerica.com/
Weekdays 5AM EDT (2AM PDT) - 2 episodes edited together
Mon-Tue Planet of Evil eps 1 - 4 of 4
A planet on the edge of the universes holds the secrets to the disappearance of a scientific expedition and a power source that could give new life to a solar system.
Wed-Thu Pyramids of Mars eps 1 - 4 of 4
The 4th Doctor must undo the damage when a meddling scientist accidentally sets in motion a process that could let Sutekh the destroyer loose on the galaxy.
Fri The Android Invasion eps 1+2 of 4
The Doctor and Sarah finally return to modern England. But the people are gone, the money is fresh, and the ginger bitter doesn't taste bad. Something's wrong.