Last updated 02 January 2017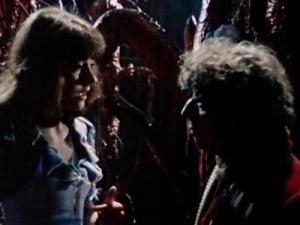 Broadcast: Monday 28th August 2000
5:00am-6:00am EDT
(09:00 GMT)
<
>
«
»
BBC America
(adverts during broadcast)
Featuring: Tom Baker, Elisabeth Sladen, Prentis Hancock, Frederick Jaeger
The TARDIS takes the Doctor and Sarah to the planet Zeta Minor on the edge of the universe. An unseen menace has wiped out a Morestran expedition and haunts the alien jungle...
Synopsis Source: Doctor Who Guide
Broadcast Source: TWIDW
Report from the This Week in Doctor Who Archive:
Friday 25th August 2000:
BBC America
http://www.bbcamerica.com/
Weekdays 5AM EDT (2AM PDT) - 2 episodes edited together
Mon-Tue Planet of Evil eps 1 - 4 of 4
A planet on the edge of the universes holds the secrets to the disappearance of a scientific expedition and a power source that could give new life to a solar system.
Wed-Thu Pyramids of Mars eps 1 - 4 of 4
The 4th Doctor must undo the damage when a meddling scientist accidentally sets in motion a process that could let Sutekh the destroyer loose on the galaxy.
Fri The Android Invasion eps 1+2 of 4
The Doctor and Sarah finally return to modern England. But the people are gone, the money is fresh, and the ginger bitter doesn't taste bad. Something's wrong.