Last updated 02 January 2017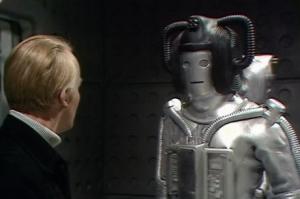 Broadcast: Wednesday 23rd August 2000
5:00am-6:00am EDT
(09:00 GMT)
<
>
«
»
BBC America
(adverts during broadcast)
Featuring: Tom Baker, Ian Marter, Elisabeth Sladen, David Collings, Ronald Leigh-Hunt, Jeremy Wilkin
The Cybermen who are intent on destroying Voga. The Doctor and two of the Nerva crew become walking bombs which they Cybermen will detonate once they reach their target.
Synopsis Source: Doctor Who Guide
Broadcast Source: TWIDW
Report from the This Week in Doctor Who Archive:
Friday 18th August 2000:
BBC America
http://www.bbcamerica.com/
Weekdays 5AM EDT (2AM PDT) - 2 episodes edited together daily
Mon Genesis of the Daleks eps 5+6 of 6
The Thals decide that the time has come to wipe out the Daleks altogether. Meanwhile, the Kaleds want to do the same thing.
Tue-Wed Revenge of the Cybermen eps 1 - 4 of 4
Back on Nerva Beacon, the Doctor, Sarah, and Harry uncover a plot to destroy Voga, the forgotten planet of gold.
Thu-Fri Terror of the Zygons eps 1 - 4 of 4
Body snatching, the Loch Ness Monster, kilts, and the final adventure of Brigadier Lethbridge- Stewart before his retirement.