Last updated 02 January 2017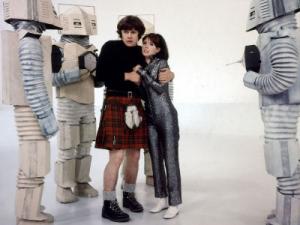 Broadcast: Sunday 20th May 2001
11:00pm PDT
(06:00 GMT)
<
>
«
»
KQED Plus
Featuring: Patrick Troughton, Frazer Hines, Wendy Padbury, Emrys Jones
The Doctor activates an emergency unit on board the TARDIS to escape destruction by a volcanic eruption.
Unfortunately, it moves them out of normal space and time to a deadly world where fantasy rules. The travelers find themselves lured out of the ship into a ghostly white void.
Synopsis Source: Doctor Who Guide
Broadcast Source: TWiDW
Report from the This Week in Doctor Who Archive:
Friday 18th May 2001:
KTEH 54 San Jose, CA
http://www.kteh.org/
Sun 11PM PDT The Mind Robber movie
Patrick Troughton at his wildest. The TARDIS travels outside of time to escape a lava flow, and straight into a land of fiction. Where the slightest suggestion can alter the flow of reality, not even Jamie's face may be safe from alteration. With unusually short episodes, this 5 part story lasts the same length as most 4 part stories. Hang on for the ride.