Last updated 02 January 2017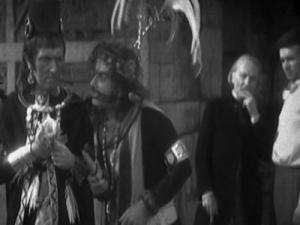 Broadcast: Sunday 4th February 2001
11:00pm PST
(07:00 GMT)
«
»
KQED Plus
Featuring: William Hartnell, Carole Ann Ford, Jacqueline Hill, William Russell, Ian Cullen, Keith Pyott, John Ringham
The TARDIS lands inside an Aztec temple in 15th Century Mexico and become cut off from the ship when they leave the temple to explore.
Synopsis Source: Doctor Who Guide
Broadcast Source: TWiDW
Report from the This Week in Doctor Who Archive:
Friday 2nd February 2001:
KTEH 54 San Jose, CA
http://www.kteh.org/
Sun 11PM PST The Aztecs movie (The Temple Of Evil, The Warriors Of Death, The Bride Of Sacrifice, The Day Of Darkness)
The Doctor, Ian, Barbara, and Susan find themselves in Tenochtitlan, the capitol city of the Aztecs. When Barbara is mistaken for a god, she begins to wonder if she can dabble with history just a bit to ensure their permanent survival. The Doctor tries to warn her that "you can't unwrite history, not one line!", but Barbara refuses to listen, with dire consequences.