Last updated 02 January 2017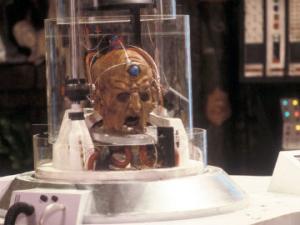 Broadcast: Sunday 10th September 2000
11:45pm-12:30am PDT
(06:45 GMT)
<
>
«
»
KQED Plus
Featuring: Colin Baker, Nicola Bryant, Eleanor Bron, William Gaunt, Terry Molloy, Alexei Sayle, Clive Swift, Jenny Tomasin
An assassin plots to murder Davros and the Doctor admits to Peri they are in great danger…
Synopsis Source: Doctor Who Guide
Broadcast Source: TWiDW
Report from the This Week in Doctor Who Archive:
Friday 8th September 2000:
KTEH 54 San Jose, CA
http://www.kteh.org/
Sun 11PM PDT Revelation of the Daleks both 45 minute episodes
Final story to use 45 minute episodes. Last story before the 1985 hiatus. Eric Saward's wit and violence go to new heights in this story, where a mortuary is used as cover for Davros' efforts to build a new race of Daleks loyal to him. But power is fleeting, as no fewer than three separate schemes to destroy Davros' work is underway, and even the Doctor is stopping by. Some days it doesn't pay to be a megalomaniac.
(Keep an eye out for the
KTEH
Doctor Who
music videos. Coming soon.)