Last updated 02 January 2017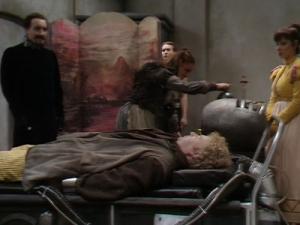 Broadcast: Sunday 20th August 2000
11:20pm-12:05am PDT
(06:20 GMT)
<
>
«
»
KQED Plus
Featuring: Colin Baker, Nicola Bryant, Anthony Ainley, Terence Alexander, Kate O'Mara
People cannot sleep in the town of Killingworth and the Doctor realises it is the work of a renegade Time Lord, the Rani, who has teamed up with the Master to cause chaos
Synopsis Source: Doctor Who Guide
---
Broadcast notes:
Scheduled between 11:20pm and 1:05am.
Broadcast Source: TWiDW
Report from the This Week in Doctor Who Archive:
Friday 18th August 2000:
KTEH 54 San Jose, CA
http://www.kteh.org/
Sun 11:20PM-1:05AM PDT Mark Of The Rani both 45 minute episodes The
6th Doctor and Peri get entangled in the Luddite rebellion against the Technological Revolution. It seems that the Luddites have been artificially aggravated - by technology, of course. Meanwhile, the Scarecrow searches for a brain.