Last updated 02 January 2017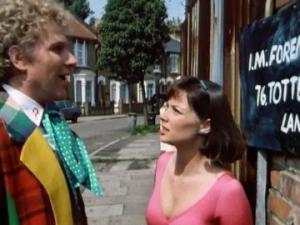 Broadcast: Sunday 6th August 2000
11:00pm-11:45pm PDT
(06:00 GMT)
<
>
«
»
KQED Plus
Featuring: Colin Baker, Nicola Bryant, David Banks, Maurice Colbourne, Brian Glover, Michael Kilgarriff
The Cybermen are hiding in the London sewers and turning humans into cybernetic slaves. On Telos, two slaves make a bid of freedom and find a way to escape the planet for good.
Synopsis Source: Doctor Who Guide
---
Broadcast notes:
Scheduled between 11pm and 12:45am.
Broadcast Source: TWiDW
Report from the This Week in Doctor Who Archive:
Friday 4th August 2000:
KTEH 54 San Jose, CA
http://www.kteh.org/
Sun 11PM-12:45AM PDT Attack of the Cybermen both 45 minute eps
The first of six
Colin Baker
stories that were originally intended to be shown with 45 minute episodes, but have rarely if ever aired that way in America. A distress call brings the Doctor and Peri to 1985 London, where Commander Lytton of the Dalek Task Force was left behind after a previous story.