Last updated 02 January 2017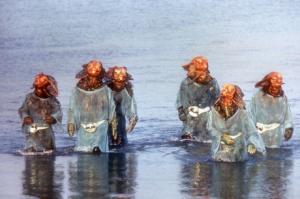 Broadcast: Sunday 3rd December 2000
6:30pm NZDT
(05:30 GMT)
<
>
«
»
Prime
(adverts during broadcast)
Featuring: Jon Pertwee, Katy Manning, Roger Delgado, Clive Morton, Edwin Richfield, Donald Sumpter
The Doctor attempts to persuade Captain Hart of the danger that the Master represents. Eager to make contact with the Sea Devils, the Doctor journeys deep into the ocean.
Synopsis Source: Doctor Who Guide
Broadcast Source: TWiDW
Report from the This Week in Doctor Who Archive:
Friday 1st December 2000:
Prime TV New Zealand
http://www.tetrap.com/drwho/nzdwfc/
http://www.primetv.co.nz/
Sun-Tue 6:30PM The Sea Devils eps 4 - 6 of 6
Only previous NZ airing in 1985.
The Master urges the Sea Devils to wage war on humanity, while the Doctor, remembering what happened to the Silurians, preaches peace.
Wed-Fri 6:30PM The Mutants eps 1 - 3 of 6
Only previous NZ airing in 1985/1986.
The Time Lords send the Doctor and Jo to Solos, where an effort by the Earth Empire to return a planet to the control of its inhabitants goes drastically wrong when the administrator in charge is murdered.