Last updated 02 January 2017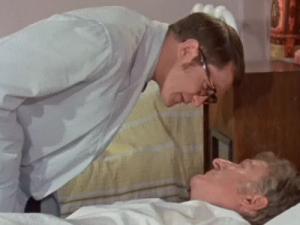 Broadcast: Friday 22nd September 2000
6:30pm NZST
(06:30 GMT)
<
>
«
»
Prime
(adverts during broadcast)
Featuring: Jon Pertwee, Nicholas Courtney, Caroline John, Hugh Burden
The TARDIS takes the newly regenerated Doctor to Earth to begin his exile. Brigadier Lethbridge-Stewart leads a UNIT investigation into a mysterious meteorite shower.
Synopsis Source: Doctor Who Guide
Broadcast Source: TWiDW
Report from the This Week in Doctor Who Archive:
Friday 15th September 2000:
Prime TV New Zealand
http://www.tetrap.com/drwho/nzdwfc/
http://www.primetv.co.nz/
Sun-Thu 6:30PM The War Games eps 6 - 10 of 10
Never before televised in New Zealand.
Jamie and Zoe get deeply involved in the resistance movement against the aliens, while the Doctor gets an unexpected job offer. The final story intended to be in Black & White, as the entire current cast leaves the series.
Fri 6:30PM Spearhead From Space ep 1 of 4
Last rerun in 1991.
Brigadier Lethbridge-Stewart and his super-secret military organization U.N.I.T (in the phone book under U) are bedeviled by two technically impossible meteor showers. When a police box is found nearby the meteor landing, the Brigadier thinks he will be able to get just the right expert to solve the problem.
Jon Pertwee
and the colour era begin with this episode.