Last updated 02 January 2017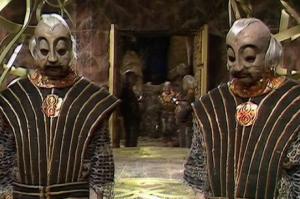 Broadcast: Saturday 16th February 2013
7:00pm-7:30pm PST
(03:00 GMT)
<
>
«
»
KBTC
Featuring: Tom Baker, Ian Marter, Elisabeth Sladen, David Collings, Ronald Leigh-Hunt, Jeremy Wilkin
The Doctor, Sarah and Harry return to Nerva, but at an earlier point in time. The crew are dying and blame a space plague, but the Doctor suspects a survivor may be responsible.
Synopsis Source: Doctor Who Guide
---
Broadcast notes:
This episode might have been shown this week or last week - there are no records available to confirm, but the following week had episode three on!
Broadcast Source: Based on KBTC on Facebook