Last updated 02 January 2017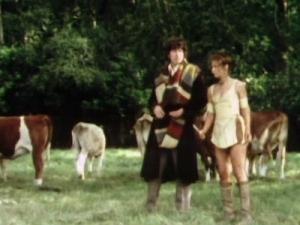 Broadcast: Sunday 29th October 2000
4:30am-4:55am CST
(10:30 GMT)
<
>
«
»
TPT
Featuring: Tom Baker, Louise Jameson, Denis Lill, Wanda Ventham
The Doctor and Leela arrive in present day England at Fetch Priory where a mysterious skull that is older than mankind exerts a deadly influence on those around it.
Synopsis Source: Doctor Who Guide
Broadcast Source: TWiDW
Report from the This Week in Doctor Who Archive:
Friday 27th October 2000:
TPT 2 St. Paul, MN
http://www.tpt.org/
Sat 11:30PM CDT, Sun 4:30AM CST Image of the Fendahl ep 1 of 4
The Sunday rerun seems earlier due to the time change and the program to get
TPT
on schedule airing later in the day than this rerun. It will be back at 5:30AM next week. While Dr. Fendelman experiments with a device for searching the past of time (a time-television, in a sense), death stalks the perimeter of his property.