Last updated 02 January 2017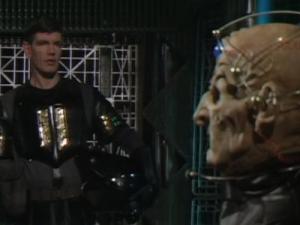 Broadcast: Sunday 2nd July 2000
11:25pm-11:50pm PDT
(06:25 GMT)
<
>
«
»
KQED Plus
Featuring: Peter Davison, Janet Fielding, Mark Strickson, Chloe Ashcroft, Rodney Bewes, Maurice Colbourne, Del Henney, Rula Lenska, Terry Molloy
Davros has been kept in suspended animation aboard a prison space station but now the Daleks have come to collect him, aided by Lytton and his fake 'policemen'.
Synopsis Source: Doctor Who Guide
---
Broadcast notes:
This is a specially reconstruction version of the episode made by Ken Patterson for KTEH. See this article for more details.
Broadcast Source: TWiDW
Reports from the This Week in Doctor Who Archive:
Friday 30th June 2000:
As promised
last week
, Ken Patterson at
KTEH San Jose
has given
This Week In Doctor Who
a special report about his restoration work on their local broadcast of
Resurrection of the Daleks
:
This story started life as 4 25-minute episodes (all 72 edits [second edit]) and was hurriedly re- edited as a 2 50-minute story prior to transmission in 1984 due to the winter olympics. This four part version was the version shown overseas and released on BBC Video...[From Steve Roberts archive holdings page
*
] A brief correction, while the US (then distributed by Lionheart) was issued a 4-part version of the story, the version supplied by the BBC of episode 2 is indeed the "71 Edit" -- or the original production edit. This version contains approximately 2 minutes more footage, but is lacking in music and sound effects.
In February of 2000, I attempted my first "restoration" of this episode (which was subsequently shown as part of our
Evening of Doctor Who with Peter Davison
.) This consisted of tacking on the open and closing sequences, along with the recap and cliffhanger. Unfortunately the 71-edit's end contains an extra scene of Daleks approaching the Doctor, and audio had to be lifted to fill the gap. After digging out a 16 year old copy of the original BBC telecast, I decided that the best course of action would be to re-edit the episode to the 72-edit content that was supposed to have been in distribution all of these years. Unfortunately, the only complete audio of the end sequence is the 16 year old tape I used as a reference. Along with all of the mid-80's consumer grade audio problems, the end credits also had an announcement about when to see part 2.
Following is a list of all of the elements used in re-constructing episode 2 of
Resurrection of the Daleks
:


Opening sequence to Tegan shouting "Look" from the 71-edit.

Dalek materializing through Dalek interior prior to Doctor's arrival on Dalek ship (audio from Movie version, video edited scene by scene from the 71-edit to replace deficient quality of KTEH's library holding of said feature version.)

TARDIS materializes on Dalek ship to Stiles announcing his working for the Daleks (video from 71 edit)

Doctor's reaction to Stiles announcing his working for the daleks (video from the 71-edit, slowed down to 61% to fit the space required.)

TARDIS materializes on Dalek ship to Doctor's reaction to Stiles announcing his working for the Daleks (audio from original BBC telecast)
End credits (video from 71-edit, audio from The Awakening part 2.

The 71-edit has Daleks chanting into the theme.)

And, of course, the Lionheart logo (silent version) from the 71-edit-- though not actually part of the original edit...


Resurrection of the Daleks
will be airing on
Sunday, 2 July, 2000 at 11PM PDT
, as part of
KTEH
's regularly scheduled
Doctor Who
broadcasts."
*
The archive holdings web link provided by Mr. Patterson had to be cut due to formatting problems. Go to http://www.restoration- team.co.uk/ and look for the archive holdings page in the left frame.
---
Friday 30th June 2000:
KTEH 54 San Jose, CA
http://www.kteh.org/
Sun 11PM PDT Resurrection of the Daleks 4 pt version, all 4 eps
(See top of column for a report on this broadcast.)
The Daleks attack the abandoned prison where Davros rots away. The TARDIS lands on Earth in 1985. A bloodbath is about to begin, and neither humans nor Daleks are safe from the slaughter. When Davros plots evil, he plots EVIL.