Last updated 02 January 2017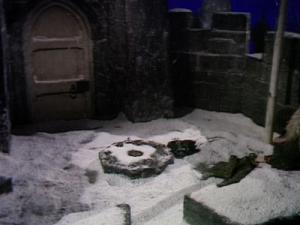 Broadcast: Saturday 2nd September 2000
12:30am-12:55am MDT
(06:30 GMT)
<
>
«
»
Colorado Public Television
Featuring: Tom Baker, Mary Tamm, Iain Cuthbertson, Cyril Luckham
The Guardian of Time gives the Doctor a difficult task, and a new assistant. Together they must search for the six segments of the Key to Time, to prevent the Universe from being plunged into eternal chaos.
On their mission, the Doctor and Romana travel to the planet Ribos where the first segment of the key is protected by the monstrous Shrivenzale.
Synopsis Source: Doctor Who Guide
Broadcast Source: TWiDW
Report from the This Week in Doctor Who Archive:
Friday 1st September 2000:
KBDI/K32EO 12,32 Denver/Colorado Springs, CO
http://www.kbdi.org/
Late Fri 12:30AM MDT The Ribos Operation eps 1+2 of 4
The first segment of the Key to Time is hidden on the planet Ribos, currently in the midst of an extended Winter. Look for the delightfully over the top Graff Vynda-K.
Sat 10PM MDT The Pirate Planet eps 1+2 of 4
The TARDIS leads the Doctor and Romana to exactly the right place, at exactly the right time, but the wrong planet. Now the tracer's gone mad, if not as mad as the Pirate Captain.