Last updated 02 January 2017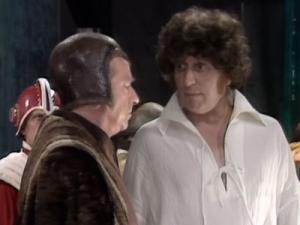 Broadcast: Saturday 12th February 2000
10:25pm-10:50pm MST
(05:25 GMT)
<
>
«
»
Colorado Public Television
Featuring: Tom Baker, Bernard Horsfall, Peter Pratt, George Pravda
The Time Lord president has been assassinated and the Doctor is the prime suspect. The Doctor realises that he has been framed for the murder, but by whom?
Synopsis Source: Doctor Who Guide
Broadcast Source: TWIDW
Report from the This Week in Doctor Who Archive:
Friday 11th February 2000:
KBDI/K32EO Denver/Colorado Springs, CO
http://www.kbdi.org/
http://www.tvquest.com/ zip 80205
Late Fri 12:30AM MST The Hand Of Fear eps 3+4 of 4
Eldrad, a crystalline creature, offers to stop causing problems on Earth if the Doctor will return her to her home planet to rebuild it.
Sat 10PM MST The Deadly Assassin eps 1+2 of 4
A distress call brings the Doctor home to Gallifrey, where an old foe is manipulating him into trying to prevent the death of the President of the High Council. The death of the President would shatter aeons of peace on the Time Lord home world.