Last updated 02 January 2017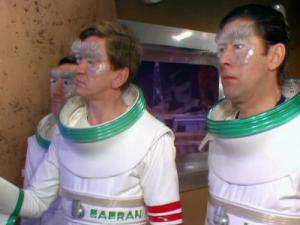 Broadcast: Saturday 13th January 2001
11:55pm-12:20am EST
(04:55 GMT)
<
>
«
»
WCET
Featuring: Tom Baker, Louise Jameson, John Leeson, Michael Sheard
An alien virus infects the human crew of a refuelling station on Titan, one of the moons of Saturn. The Doctor is also infected and becomes possessed by the will of the Nucleus.
Synopsis Source: Doctor Who Guide
Broadcast Source: TWiDW
Report from the This Week in Doctor Who Archive:
Friday 12th January 2001:
WCET 48 Cincinnati, OH
http://www.wcet.org/
Sat 11:30PM EST Horror of Fang Rock ep 4 of 4
The Rutan reveals its plan. Leela courts death multiple times to battle the Rutan. This time she makes one too many mistakes.
Sat 11:55PM EST The Invisible Enemy ep 1 of 4
A space virus takes over the Titan space colony. Not finding any humans there suitable to host an invasion fleet, the virus sets its sights on the TARDIS, and the brilliant scientist on board - Ian Chesterson. Being a few incarnations too late for Ian, it starts evaluating the Doctor as a host instead.