Last updated 02 January 2017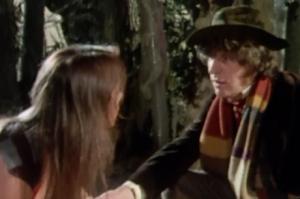 Broadcast: Saturday 21st October 2000
11:55pm-12:20am EDT
(03:55 GMT)
<
>
«
»
WCET
Featuring: Tom Baker, Louise Jameson, Brendan Price
The Doctor arrives on an alien world and is taken captive by the savage Sevateem tribe. Accused of being 'the evil one', the Doctor begins to suspect that he has been here before.
Synopsis Source: Doctor Who Guide
Broadcast Source: TWiDW
Report from the This Week in Doctor Who Archive:
Friday 20th October 2000:
*
WCET 48 Cincinnati, OH
http://www.wcet.org/
Sat 11:30PM EDT The Deadly Assassin ep 4 of 4
In the aftermath of the battle in the Matrix, the Time Lords learn who the real traitors are. But it may not be enough to save their planet from destruction.
Sat 11:55PM EDT The Face of Evil ep 1 of 4
Season 14 had a real "body parts" theme to it. The "Masque" of Mandragora. The "Hand" of Fear. The "Face" of Evil. Methinks the producer has a rather sinister side to him.