Last updated 02 January 2017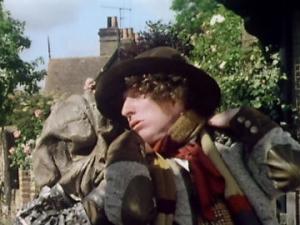 Broadcast: Saturday 22nd July 2000
11:55pm-12:20am EDT
(03:55 GMT)
<
>
«
»
WCET
Featuring: Tom Baker, Ian Marter, Elisabeth Sladen, Martin Friend, Milton Johns
The Kraals intend to invade Earth by stowing away aboard Crayford's rocket as it returns home. The Doctor learns Styggron's plan is to wipe out all life on the planet.
Synopsis Source: Doctor Who Guide
Broadcast Source: TWiDW
Report from the This Week in Doctor Who Archive:
Friday 21st July 2000:
WCET 48 Cincinnati, OH
http://www.wcet.org/
Sat 11:30PM EDT The Android Invasion eps 2+3 of 4
The Doctor discovers evidence that he may not have landed in Britain after all. I'd have to agree with him. How can it be England without any tourists poking their noses everywhere? Ok, maybe he noticed the unbelievable currency and the androids more, but late 20th Century England without tourists is simply ridiculous.