Last updated 02 January 2017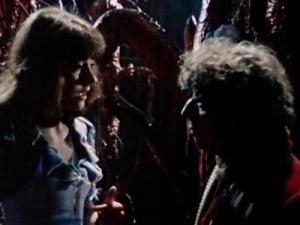 Broadcast: Saturday 17th June 2000
11:55pm-12:20am EDT
(03:55 GMT)
<
>
«
»
WCET
Featuring: Tom Baker, Elisabeth Sladen, Prentis Hancock, Frederick Jaeger
The TARDIS takes the Doctor and Sarah to the planet Zeta Minor on the edge of the universe. An unseen menace has wiped out a Morestran expedition and haunts the alien jungle...
Synopsis Source: Doctor Who Guide
Broadcast Source: TWiDW
Report from the This Week in Doctor Who Archive:
Friday 16th June 2000:
WCET 48 Cincinnati, OH
http://www.wcet.org/
Sat 11:30PM EDT Terror of the Zygons ep 4 of 4
The Loch Ness Monster discovers that the tasty Doctor snack has come to London as well. Maybe there'll be another chance to get "acquainted".
Sat 11:55PM EDT Planet of Evil ep 1 of 4
It's the border between matter and anti-matter. Two incompatible universes, interacting with each other on a planet of the doomed. So the Doctor and Sarah go for a walk there.