Last updated 02 January 2017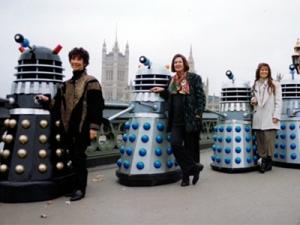 Broadcast: Saturday 5th August 2000
9:00pm-10:00pm CDT
(02:00 GMT)
<
>
«
»
Lakeshore Public Television
Featuring: Colin Baker, Nicola Bryant, Nicholas Courtney, Terrance Dicks, Philip Hinchcliffe, Frazer Hines, Barry Letts, Sylvester McCoy, Jon Pertwee, Elisabeth Sladen, Deborah Watling, Michael Wisher
Broadcast Source: (based on TWiDW)
Report from the This Week in Doctor Who Archive:
Friday 4th August 2000:
WYIN 56 Gary, IN
(Chicago, IL)
http://www.wyin.org/
Sat 8PM CDT 30 Years In The TARDIS 1993 documentary
(more likely 9pm)
A tribute to the history of the Doctor, which first aired on BBC 1 in 1993. Many clips and interviews. Released on video as "More Than 30 Years In The TARDIS with 40 more minutes of footage, but as the entire
Doctor Who
video catalog was recalled earlier this week during the changeover from FOX to Warner, this may be the only chance you'll have to see the special.
Sat 9PM CDT Horror of Fang Rock eps 2,3,+4 of 4
(more likely just episode 3)
As the people in the lighthouse die at an alarming rate, the Doctor and Leela discover that one of the humans is an alien in disguise.
Sat 10:30PM CDT "

Doctor Who

's Who's Who" 1985 documentary
That's right,
WYIN
fans. The New Jersey Network-produced special that
WYIN
has tried to air so many times before succeeding gets an encore appearance. The special that made many American viewers aware of fandom, with appearances by
Tom Baker
,
Peter Davison
,
Colin Baker
,
Jon Pertwee
, and others. Next episode airs
August 19
.