Last updated 02 January 2017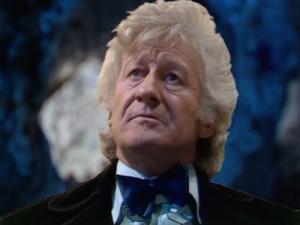 Broadcast: Saturday 29th January 2000
12:55am-1:20am CST
(06:55 GMT)
«
»
Iowa Public TV
Featuring: Tom Baker, Jon Pertwee, Nicholas Courtney, Elisabeth Sladen, George Cormack, John Dearth, Richard Franklin, Gareth Hunt, John Kane
The Doctor takes the blue crystal and returns to Metebelis 3 where he must face the spider ruler, the Great One. But it is an encounter that triggers his second regeneration..
Synopsis Source: Doctor Who Guide
Broadcast Source: TWIDW
Report from the This Week in Doctor Who Archive:
Friday 28th January 2000:
IPTV Iowa 11, 12, 21, 24, 27, 32, 32, 36
http://www.sffn.com/
http://www.iptv.org/
Late Fri 12:05AM CST Planet of the Spiders eps 4,5,+6 of 6
Late start due to wrestling.
Jon Pertwee
's final episodes as the Doctor. A colony of humans on Metebelis III are being abused and eaten by the same spiders that are searching for the Doctor's crystal on Earth. To save the humans, the Doctor will have to sacrifice the crystal - and himself.