Last updated 02 January 2017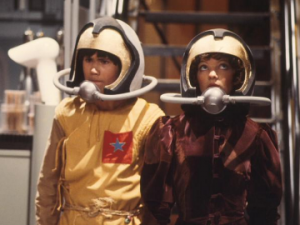 Broadcast: Friday 4th January 2002
12:00am-12:30am EST
(05:00 GMT)
<
>
«
»
NHPTV
Featuring: Peter Davison, Janet Fielding, Sarah Sutton, Matthew Waterhouse, Stratford Johns, Annie Lambert, Philip Locke, Paul Shelley
The arrival of the TARDIS is observed by three Urbankans via their manopticon devices. Intrigued, they begin dividing the Doctor's friends, and disguising themselves as humans
Synopsis Source: Doctor Who Guide
Broadcast Source: TWiDW
Report from the This Week in Doctor Who Archive:
Friday 28th December 2001:
NHPTV New Hampshire 11,49,52
http://www.nhptv.org/
Dish Network Local 8781?? effective 1/1/02??
Late Sat Mid EST Castrovalva eps 3+4 of 4
The 5th Doctor attempts to heal his mind in the paradise of Castrovalva. But something is amiss in this idyllic town. And why can't he remember the name of Ad, er, um, who was he? - that guy in the yellow shirt who's good at math?
Late Thu Mid EST Four To Doomsday eps 1+2 of 4
The 5th Doctor and company arrive on a spaceship bound for Earth. The spaceship has visited Earth before, and now it is coming to stay. These episodes will not be repeated, as the Saturday repeat is being pre-empted by sports on January 5th. Catch it on Thursday, or alas, you have missed it.