Last updated 02 January 2017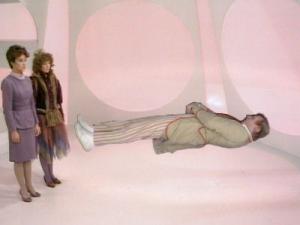 Broadcast: Sunday 23rd December 2001
12:00am-12:30am EST
(05:00 GMT)
«
»
NHPTV
Featuring: Peter Davison, Janet Fielding, Sarah Sutton, Matthew Waterhouse, Anthony Ainley
The Doctor tries to recuperate within the Zero Room, leaving Nyssa, Adric and Tegan to face the Master. Then Adric is taken and the TARDIS plunges towards Event One...
Synopsis Source: Doctor Who Guide
Broadcast Source: TWiDW
Report from the This Week in Doctor Who Archive:
Friday 21st December 2001:
NHPTV New Hampshire 11,49,52
http://www.nhptv.org/
DirecTV Local TBA effective 12/27/01
Dish Network Local TBA effective 1/1/02
Late Sat Mid EST Castrovalva eps 1+2 of 4
Late Thu Mid EST Castrovalva eps 3+4 of 4
The 5th Doctor's body is ailing from an unstable regeneration, forcing him to retreat to environments of tranquility so he can heal. To aid the process, Tegan and Nyssa seek out a planet the TARDIS recommends - Castrovalva - where the Doctor can have the time he needs to reconnect with his body.