Last updated 02 January 2017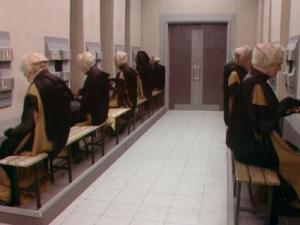 Broadcast: Sunday 16th December 2001
12:00am-12:30am EST
(05:00 GMT)
<
>
«
»
NHPTV
Featuring: Tom Baker, Janet Fielding, Sarah Sutton, Matthew Waterhouse, Anthony Ainley, John Fraser
The Master is loose on Logopolis and is determined to learn its secret. But there is more at stake than he realises and his meddling has endangered the entire universe.
Synopsis Source: Doctor Who Guide
Broadcast Source: TWiDW
Report from the This Week in Doctor Who Archive:
Friday 14th December 2001:
NHPTV New Hampshire 11,49,52
http://www.nhptv.org/
Late Sat Mid EST Logopolis eps 3+4 of 4
The universe begins to collapse, something not even the Master wanted. As time counts down to total destruction, the 4th Doctor battles to save the universe one last time - all the while suspecting his imminent demise.
Late Thu Mid EST Castrovalva eps 1+2 of 4
The Doctor's regeneration doesn't take well, leaving the new 5th Doctor largely incapacitated. While Tegan and Nyssa try to operate the TARDIS and help the Doctor recover, Adric disappears.