Last updated 02 January 2017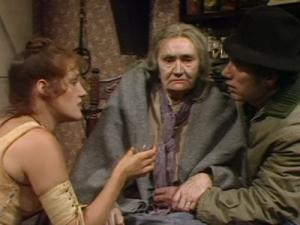 Broadcast: Friday 5th January 2001
1:00am-1:30am EST
(06:00 GMT)
<
>
«
»
NHPTV
Featuring: Tom Baker, Louise Jameson, Denis Lill, Wanda Ventham
As Thea succumbs to the power of the skull, the Doctor realises that an ancient horror from the mythology of his own people is manifesting itself at Fetch Priory.
Synopsis Source: Doctor Who Guide
Broadcast Source: TWiDW
Report from the This Week in Doctor Who Archive:
Friday 29th December 2000:
NHPTV New Hampshire 11,49,52
http://nhptv.org/
Sun 3PM EST The Invisible Enemy eps 3+4 of 4
Cloned versions of the Doctor and Leela are injected into the Doctor's brain to locate and neutralize the leader of the Virus. But they are not alone. It might be the last daytime broadcast on
NHPTV
for a while, so let's give it a good send-off. You'll be buried under 18 inches of snow anyway, so why not.
Late Thu 12:30AM EST Image of the Fendahl eps 1+2 of 4
(Believe it or not, that is the new time.) The Doctor discovers a Time Scanner at work on Earth, a dangerous piece of technology that can have the side effect of blowing up whatever planet it resides on. Meanwhile, the users are uncovering the secret to something still more dangerous.