Last updated 02 January 2017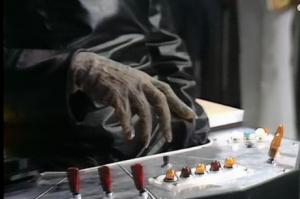 Broadcast: Sunday 9th April 2000
3:30pm-4:00pm EDT
(19:30 GMT)
<
>
«
»
NHPTV
Featuring: Tom Baker, Ian Marter, Elisabeth Sladen, Peter Miles, Michael Wisher
The Doctor finds that some of Davros's fellow Kaleds are unhappy with the development of the Daleks. Sarah is forced to load a Thal war rocket with radioactive explosives.
Synopsis Source: Doctor Who Guide
Broadcast Source: TWiDW
Report from the This Week in Doctor Who Archive:
Thursday 6th April 2000:
NHPTV New Hampshire 11, 49, 52
http://nhptv.org/
Sun 3PM EDT Genesis of the Daleks eps 1+2 of 6
The Doctor is intercepted by a Time Lord, who wants him to perform a simple errand. Alter the history of the Daleks, to save the future. Of course, changing the past would irrevocably alter the future, but no one said that Time Lords were brilliant in the logical thinking category.