Last updated 02 January 2017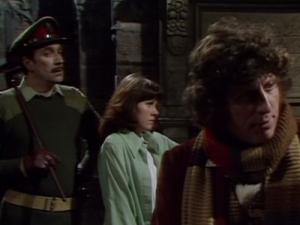 Broadcast: Saturday 29th July 2000
7:00pm-7:30pm PDT
(02:00 GMT)
<
>
«
»
KBTC
Featuring: Tom Baker, Nicholas Courtney, Ian Marter, Elisabeth Sladen, John Woodnutt, John Woodnutt
The Doctor and Sarah find their way into the Zygon spaceship at the bottom of Loch Ness while the Brigadier prepares to force it to the surface with depth charges.
Synopsis Source: Doctor Who Guide
Broadcast Source: TWIDW
Report from the This Week in Doctor Who Archive:
Friday 28th July 2000:
KBTC/KCKA/K65BU 28,15,65 Tacoma/Centralia/Gray's River, WA
http://www.kbtc.org/
Sat 7PM, Late Sat 12:30AM PDT Terror of the Zygons eps 3+4 of 4
The Zygons prepare to take over Earth by conquering the most important city - London. The U.N.I.T. stories were originally set several years in the future. This story accurately predicts Margaret Thatcher becoming the British Prime Minister.