Last updated 02 January 2017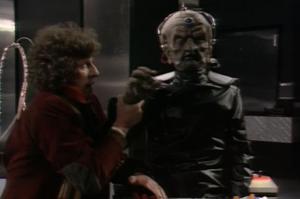 Broadcast: Sunday 2nd July 2000
12:30am-1:00am PDT
(07:30 GMT)
<
>
«
»
KBTC
Featuring: Tom Baker, Ian Marter, Elisabeth Sladen, Peter Miles, Michael Wisher, Stephen Yardley
With Harry and Sarah his prisoners, Davros interrogates the Doctor, forcing him to reveal the future of the Daleks so that he can learn from their defeats to make them stronger.
Synopsis Source: Doctor Who Guide
Broadcast Source: TWIDW
Report from the This Week in Doctor Who Archive:
Friday 30th June 2000:
KBTC/KCKA/K65BU 28,15,65 Tacoma/Centralia/Gray's River, WA
http://www.kbtc.org/
Sat 7PM, Late Sat 12:30AM PDT Genesis of the Daleks eps 5+6 of 6
Davros has become the man that knows too much. By trying to change history to weaken the Daleks, the Daleks now know how to conquer the universe. Now it may be impossible the save the universe without wiping out the Daleks altogether, smashing the web of established history.