Last updated 02 January 2017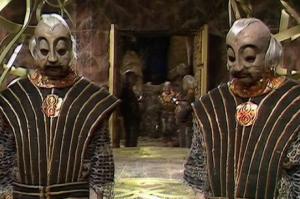 Broadcast: Saturday 18th December 1999
10:30pm MST
(05:30 GMT)
«
»
New Mexico PBS
Featuring: Tom Baker, Ian Marter, Elisabeth Sladen, David Collings, Ronald Leigh-Hunt, Jeremy Wilkin
The Doctor, Sarah and Harry return to Nerva, but at an earlier point in time. The crew are dying and blame a space plague, but the Doctor suspects a survivor may be responsible.
Synopsis Source: Doctor Who Guide
Broadcast Source: TWIDW
Report from the This Week in Doctor Who Archive:
Friday 17th December 1999:
KNME 5 Albuquerque, NM
http://www.knmetv.org/
Sat 10:30PM MST Revenge of the Cybermen movie
The stories are airing in production order, so look for
Genesis of the Daleks
next week. Having survived the Daleks, the TARDIS crew returns to Nerva, many years before they left. The operators of the station are being wiped out by a "plague" that can eat tape logs. It seems that the rumors of the Cybermen's death were greatly exaggerated.