Last updated 02 January 2017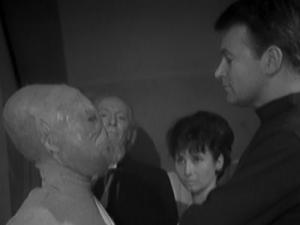 Broadcast: Saturday 11th July 1964
5:15pm-5:40pm BST
(16:15 GMT)
<
>
«
»

<
>
«
»
(actually broadcast at 17:15:02)
BBC One
Featuring: William Hartnell, Carole Ann Ford, Jacqueline Hill, William Russell, Lorne Cossette, Stephen Dartnell, Joe Greig, Ilona Rogers, Ken Tyllsen
The Sensorites take the Doctor, Susan, Ian and members of the spaceship crew down to the surface of the Sense-Sphere. There the Doctor learns about a previous Earth expedition...
Synopsis Source: Doctor Who Guide
The episode was originally scheduled for the 4th July on 7:10pm, at least in the Radio Times. The BBC decided not to show the episode and instead broadcast Juke Box Jury, and so Hidden Danger went out on this day instead.
Broadcast Source: BBC
Ratings Information:

Consolidated figures: 7.400m viewers (+7 days), 22nd place, AI 56