Last updated 02 January 2017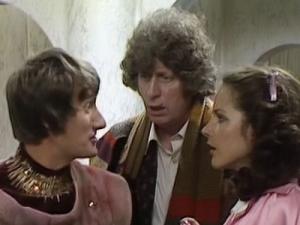 Broadcast: Saturday 16th October 1999
10:30pm MDT
(04:30 GMT)
«
»
New Mexico PBS
Featuring: Tom Baker, John Leeson, Mary Tamm, Bruce Purchase, Andrew Robertson
The Doctor, Romana and K9 face new dangers searching for the second segment to the Key to Time. What has happened to the planet it is hidden on?
Instead of landing on Calufrax as originally intended, they arrive on a different planet and encounter the Mentiads, and the strange Captain.
Synopsis Source: Doctor Who Guide
Broadcast Source: TWIDW
Report from the This Week in Doctor Who Archive:
Friday 15th October 1999:
KNME 5 Albuquerque, NM
http://www.knmetv.org/
Sat 10:30PM MDT The Pirate Planet movie
The search for the Key To Time leads the TARDIS crew to Calufrax. A cold, clammy planet covered in rich minerals - and now missing. The planet that has taken Calufrax's place has a lot of explaining to do. Douglas Adams' first contribution to
Doctor Who
, and I think it predates the original version of The Hitch-hiker's Guide To The Galaxy.