Last updated 02 January 2017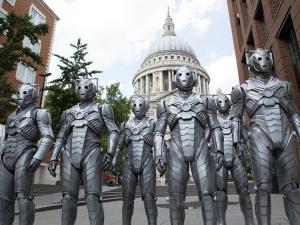 Broadcast: Thursday 25th December 2014
6:45pm-7:45pm EST
(23:45 GMT)
«
»
BBC America
(adverts during broadcast)
Featuring: Peter Capaldi, Samuel Anderson, Jenna Coleman, Chris Addison, Michelle Gomez
In the world of the Nethersphere, plans have been drawn. Missy is about to come face to face with the Doctor, and an impossible choice is looming. "Death is not an end" promises the sinister 3W but, as the Doctor and Clara discover, you might wish it was.
Synopsis Source: BBC America website schedule listing
Originally scheduled at 7:00pm, shifted to incorporate a longer 105 minute Deep Breath (originally 90 mins) and a longer 75 minute Death In Heaven (originally an hour).
Broadcast Source: BBC America