Flatline
(Season 8 - Ep 9)
Last updated 02 January 2017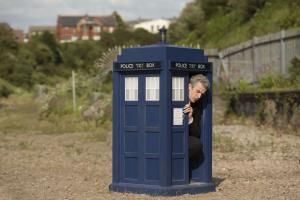 Broadcast: Thursday 25th December 2014
4:45pm-5:45pm EST
(21:45 GMT)
<
>
«
»
BBC America
(adverts during broadcast)
Featuring: Peter Capaldi, Samuel Anderson, Jenna Coleman, Christopher Fairbank, Joivan Wade
Separated from the Doctor, Clara discovers a new menace from another dimension. But how do you hide when even the walls are no protection? With people to save and the Doctor trapped, Clara comes up against an enemy that exists beyond human perception.
Synopsis Source: BBC America website schedule listing
---
Broadcast notes:
Originally scheduled at 5:00pm, shifted to incorporate a longer 105 minute Deep Breath (originally 90 mins) and a longer 75 minute Death In Heaven (originally an hour).
Broadcast Source: BBC America