Last updated 02 January 2017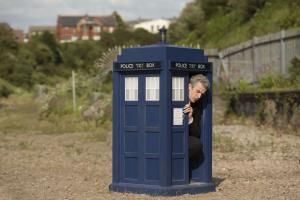 Visit Broadcast Link
Broadcast: Saturday 18th October 2014
8:25pm-9:10pm BST
(19:25 GMT)
<
>
«
»

<
>
«
»
(actually broadcast at 20:24:00)
BBC One
Featuring: Peter Capaldi, Samuel Anderson, Jenna Coleman, Christopher Fairbank, Joivan Wade
Clara must fight her own battle against a multidimensional menace when the Doctor becomes trapped, but even walls cannot offer her protection from an enemy that moves in realms beyond human perception.
Synopsis Source: Radio Times
Broadcast Source: BBC
Ratings Information:
Initial figures:
4.550m viewers (overnight), 19.9% audience share, 4th place day
Consolidated figures:
6.712m viewers (+7 days), 25.5% audience share, 23rd place - BARB Week Top 30 Chart, AI 85
Additional figures:
7.014m viewers (+28 days)
Online player figures:
1.28m requests as of 31st October 2014
Overnights: Doctor Who was fourth for the day, slipping behind Pointless Celebrities which managed 4.94 million viewers at the earlier time of 5.45pm. Top for the day was Strictly Come Dancing with 9.03 million, while on ITV The X Factor had 7.71 million viewers. Doctor Who had a share of 19.9% of the total television audience.
BARB Reports
BARB Live: 3.650m; Timeshift+7: 3.062m (6.712m total); Timeshift+28: 3.364m (7.014m total)
[first week Breakdown: 4.548m(Sat); 5.826m(Sun); 6.216m(Mon); 6.356m(Tue); 6.415m(Wed); 6.467m(Thu)]
BBC Reports
BBC Live+Same Day: 4.60m; Repeat: 0.30m; Time-Shift: 2.21m; iPlayer: 0.75m; Live+7 Total: 7.85m
The Live+7 figure is calculated by the BBC to try to get an accurate estimate of the total unique audience for an episode of a programme. Unlike official BARB figures the Live+7 uses data to include those who watched one of the broadcast repeats of the episode and those who watched the episode on iPlayer all within 7 days of the original transmission.
The BBC's iPlayer performance figures reported that the episode was requested 1.282m times to the end of the month, making it the thirteenth most requested programme in October(the figure does not include requests via Virgin Media or Sky).
Notes



List:



Next Time Trailer
The Doctor discovers a new menace from another dimension.

Official Trailer
Separated from the Doctor, Clara discovers a new menace from another dimension.

Credit: BBC Worldwide

DRAMA OF THE WEEK Doctor Who is always exploring time and space, but rarely that other component of the acronym Tardis (Time and Relative Dimension in Space) - yes dimensions. The clue is in the episode title, Flatline, as a new menace from a 2D plane assails locals on a Bristol estate, flattening them into the walls. "Whatever they are," says the Doctor, "they're experimenting, testing, dissecting. Trying to understand three dimensions." Separated from the Clara, he has his own problems when the Tardis starts to shrink ...

Directed by Line of Duty's Douglas Mackinnon and written by Jamie Mathieson (who also penned last week's Orient-Express excursion), Flatline is tense and startingly imaginative. It pokes fun at the Time Lord, gives Clara and graffiti artist Rigsy (Big School's Joivan Wade), a chance to prove their mettle, and invents a foe that is dimensionally transcendental.

Credit: Radio Times, p61