Last updated 02 January 2017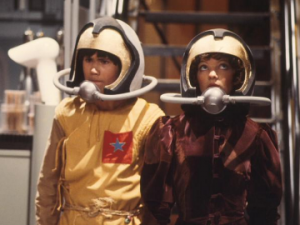 Broadcast: Sunday 19th January 2003
12:00am-1:30am EST
(05:00 GMT)
<
>
«
»
MPT Maryland
Featuring: Peter Davison, Janet Fielding, Sarah Sutton, Matthew Waterhouse, Stratford Johns, Annie Lambert, Philip Locke, Paul Shelley
The arrival of the TARDIS is observed by three Urbankans via their manopticon devices. Intrigued, they begin dividing the Doctor's friends, and disguising themselves as humans
Synopsis Source: Doctor Who Guide
Broadcast Source: TWIDW
Report from the This Week in Doctor Who Archive:
Wednesday 15th January 2003:
MPT Maryland
http://www.mpt.org
analog 22,67,28,31,62,36
digital 42,(29),(62),(44),(28),(56) - simulcast of analog begins in 2003
DC/Hagerstown & Baltimore DirecTV Local 22,980
Late Sat Mid EST Four To Doomsday movie
The 5th Doctor and company land on a spaceship run by the Urbankans, a race of intelligent frogs seeking a new home on Earth. They claim to be peaceful, and have visited Earth before. Well, they visited Earth before, but as for peaceful ...