Last updated 02 January 2017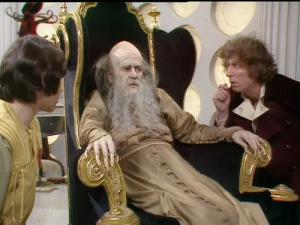 Broadcast: Sunday 29th December 2002
12:00am-1:30am EST
(05:00 GMT)
<
>
«
»
MPT Maryland
Featuring: Tom Baker, Sarah Sutton, Matthew Waterhouse, Anthony Ainley, Geoffrey Beevers
The Keeper of Traken is nearing the end of his long reign. Fearing a terrible evil is about to threaten the peace and harmony of his world, he requests the Doctor's help.
Synopsis Source: Doctor Who Guide
Broadcast Source: TWIDW
Report from the This Week in Doctor Who Archive:
Thursday 26th December 2002:
MPT Maryland
http://www.mpt.org
analog 22,67,28,31,62,36
digital 42,
(29),(62),(44),(28),(56)
- simulcast of analog begins in 2003
DC/Hagerstown & Baltimore DirecTV Local 22,980
Late Sat Mid EST The Keeper of Traken movie
The 4th Doctor returns to normal space, only to be called on to investigate evidence of the growth of evil in a hamlet of niceness.