Last updated 02 January 2017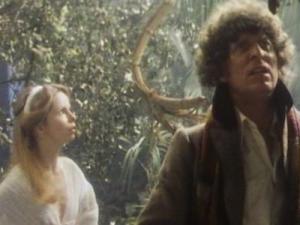 Broadcast: Sunday 3rd November 2002
12:00am-1:30am EST
(05:00 GMT)
<
>
«
»
MPT Maryland
Featuring: Tom Baker, David Brierley, Lalla Ward, Myra Frances, Eileen Way
The Doctor and Romana follow a distress signal to the jungle world of Chloris. The planet is ruled by the ruthless Lady Adrasta who takes the Doctor prisoner.
Synopsis Source: Doctor Who Guide
Broadcast Source: TWIDW
Report from the This Week in Doctor Who Archive:
Wednesday 30th October 2002:
MPT Maryland
http://www.mpt.org
analog 22,67,28,31,62,36
digital 42,(29),(62),(44),(28),(56) - simulcast of analog begins in 2003
DirecTV 22,980
Late Sat Mid EST The Creature from the Pit movie
Lady Adrasta rules the planet Chloris with hatred and comtempt. This is the story of an egg shell. An egg shell she cracked. And because she cracked it, her entire world faced the possibility of destruction.