Last updated 02 January 2017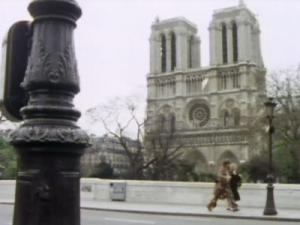 Broadcast: Sunday 27th October 2002
12:00am-1:30am EDT
(04:00 GMT)
<
>
«
»
MPT Maryland
Featuring: Tom Baker, Lalla Ward, Tom Chadbon, Julian Glover, Catherine Schell
While on holiday in Paris, the Doctor and Romana experience a time distortion. At the Louvre, someone is taking an unusual amount of interest in the Mona Lisa.
Synopsis Source: Doctor Who Guide
Broadcast Source: TWIDW
Report from the This Week in Doctor Who Archive:
Wednesday 23rd October 2002:
MPT Maryland
http://www.mpt.org
analog 22,67,28,31,62,36
digital 42,(29),(62),(44),(28),(56) - simulcast of analog begins in 2003
DirecTV 22,980
Late Sat Mid EDT City of Death movie
Paris, 1979. The 4th Doctor and Romana find their vacation interrupted by time slips and an alien split through time who desires to reunite himself regardless of the cost. Keep an eye out for Duggan (can we say effort to launch a spinoff?), a cameo by
John Cleese
, and the Mona Lisa.