Last updated 02 January 2017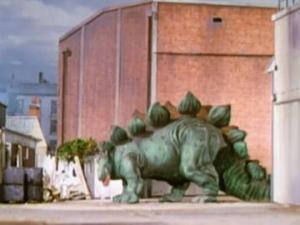 Broadcast: Sunday 24th February 2002
12:15am-2:10am EST
(05:15 GMT)
<
>
«
»
MPT Maryland
Featuring: Jon Pertwee, Nicholas Courtney, Elisabeth Sladen, Richard Franklin, Martin Jarvis, John Levene, Peter Miles
The Doctor plans to capture a dinosaur so he can discover who is transporting them through time. But Mike Yates is in league with the enemy and is ordered to stop the Doctor.
Synopsis Source: Doctor Who Guide
This edit did not include episode one.
Broadcast Source: TWIDW
Report from the This Week in Doctor Who Archive:
Friday 22nd February 2002:
MPT Maryland
22,28,31,36,62,67
http://www.mpt.org/
DirecTV DC & Baltimore Local 22/980
Dish Network DC Local 8083 - not yet offered
Dish Network Pittsburgh Local 8141 - not yet offered
Dish Network Baltimore Local 8736 - not yet offered
Late Sat 12:15AM EST Invasion of the Dinosaurs movie
(Time approximate after pledge specials. Will probably omit the first episode, which exists only in Black & White, as the movie version didn't include that episode and MPT has never remembered to add it in before.)
The 3rd Doctor, Sarah, the Brigadier, Mike Yates, and Sgt. Benton have yet another invasion of London on their hands. But this time the invaders aren't aliens - they're dinosaurs. One of the gang will be forever changed by events in this story. Also, the Doctor introduces a new hover-car in this story. It was apparently intended to be a regular staple of the show, like the Doctor's roadster Bessie had been. However, it would only appear in one more story -
Planet of the Spiders
- where it had to share screen time with Bessie.