Last updated 02 January 2017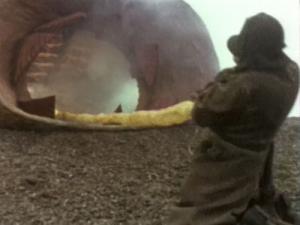 Broadcast: Sunday 18th November 2001
12:21am-1:51am EST
(05:21 GMT)
«
»
MPT Maryland
Featuring: Jon Pertwee, Nicholas Courtney, Katy Manning, Roger Delgado, Richard Franklin, Paul Grist, John Levene
Axos lands on Earth. The Axons ask only to be allowed to repair their damaged ship and offer the gift of the miraculous Axonite in return. But the Axons aren't all that they seem.
Synopsis Source: Doctor Who Guide
Broadcast Source: TWIDW
Report from the This Week in Doctor Who Archive:
Friday 16th November 2001:
MPT Maryland
22,28,31,36,62,67
http://www.mpt.org/
Late Sat 12:21AM EST The Claws of Axos movie
11. A Space-Craft Comes To Earth One Day
"Peace And Love!" It Pro-claims.
They Want To Give Us What We Need
To Pro-duce Big-ger Grains.
But There Must Be A Dark Side To
This Friend-ly Af-fair.
Be-cause Ev-en The Mas-ter Is A Pawn In Their Big Snare.