Last updated 02 January 2017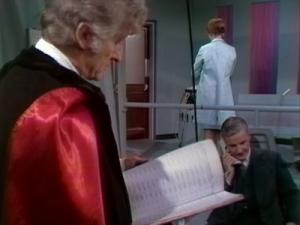 Broadcast: Sunday 14th October 2001
12:15am-2:55am EDT
(04:15 GMT)
«
»
MPT Maryland
Featuring: Jon Pertwee, Nicholas Courtney, Caroline John, Fulton Mackay, Peter Miles
UNIT are summoned to Wenley Moor research station which is experiencing mysterious power losses. In the nearby caves, one of the staff has been killed and another sent insane.
Synopsis Source: Doctor Who Guide
Broadcast Source: TWIDW
Report from the This Week in Doctor Who Archive:
Friday 12th October 2001:
MPT Maryland
22,28,31,36,62,67
http://www.mpt.org/
Late Sat Mid EDT Doctor Who And The Silurians movie (either color or black & white)
Hopefully MPT has the color-restored version this time (they have aired both). The 3rd Doctor and Liz are called to an experimental nuclear power station which has been crippled by blackouts. Seems the power is being drained to revive an ancient species that used to rule the planet. If they get the color version, it might be episodic - allow 3 hours on your VCR just in case it is the episodic version.