Last updated 02 January 2017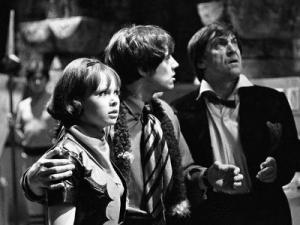 Broadcast: Sunday 9th September 2001
12:15am-1:45am EDT
(04:15 GMT)
<
>
«
»
MPT Maryland
Featuring: Dr. Who, Frazer Hines, Wendy Padbury
The TARDIS lands on the planet of the Gonds, a primitive and enslaved people. Every year, two of the finest Gond students are sent to be 'companions' of the mysterious and unseen Krotons. But the Doctor reveals that only death awaits them.
Synopsis Source: Doctor Who Guide
Broadcast Source: TWIDW
Report from the This Week in Doctor Who Archive:
Friday 7th September 2001:
MPT Maryland
22,28,31,36,62,67
http://www.mpt.org/
(New later time.)
Late Sat 12:15AM EDT The Krotons movie (90 minutes)
The 2nd Doctor, Jamie, and Zoe arrive on a world where intelligence is rewarded with the chance to leave your mortal life behind and join the Krotons in their spaceship. But what really happens to them?