Last updated 02 January 2017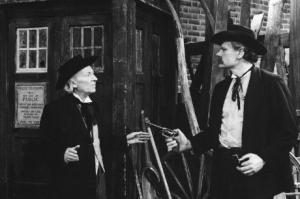 Broadcast: Sunday 5th August 2001
12:00am-1:30am EDT
(04:00 GMT)
<
>
«
»
MPT Maryland
Featuring: William Hartnell, Jackie Lane, Peter Purves, Richard Beale, David Cole, David Graham, William Hurndell, Anthony Jacobs
The Doctor, Steven and Dodo arrive in Tombstone in America's Wild West. Mistaken for the infamous Doc Holliday, the Doctor unwittingly walks into a trap.
Synopsis Source: Doctor Who Guide
Broadcast Source: TWIDW
Report from the This Week in Doctor Who Archive:
Friday 3rd August 2001:
MPT Maryland
22,28,31,36,62,67
http://www.mpt.org/
Late Sat Mid EDT The Gunfighters movie (A Holiday For The Doctor, Don't Shoot The Pianist, Johnny Ringo, The OK Corral)
Doctor Who
- The Musical. The 1st Doctor, Steven, and Dodo are roped into the deadly Gunfight at the OK Corral. A mixture of comedy and sinister overtones, with action punctuated by the ballad that splits fandom up into those that believe it to be cool and those that find it bloody awful. Doctor Who rides roughshod over the Old West, and the result is a forgotten classic. No real American accents were harmed in the making of this teleproduction.