Last updated 02 January 2017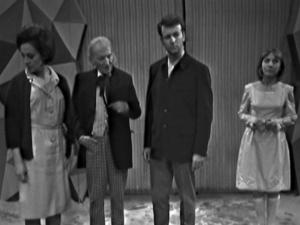 Broadcast: Sunday 8th July 2001
12:00am-1:30am EDT
(04:00 GMT)
<
>
«
»
MPT Maryland
Featuring: William Hartnell, Jacqueline Hill, Maureen O'Brien, William Russell, Peter Craze
Exploring a museum on the planet Xeros, the travellers discover they are invisible. The Doctor deduces that the TARDIS has jumped a time track and can see their own future.
Cliffhanger: having temporarily been frozen in time, the travellers discover their exhibits have vanished, and the Doctor realises that they have caught up with themselves in time ...
Synopsis Source: Doctor Who Guide
Broadcast Source: TWIDW
Report from the This Week in Doctor Who Archive:
Friday 6th July 2001:
MPT Maryland
22,28,31,36,62,67
http://www.mpt.org/
Late Sat Mid EDT The Space Museum movie (The Space Museum, The Dimensions Of Time, The Search, The Final Phase)
The 1st Doctor and company get a vision of the future - where they are dead exhibits in a museum. As the future gets closer and seems to match what they've already seen, the situation grows desparate. No Daleks were harmed in the making of this televisual program.